Blessings Gems,
Happy Black Stories and Love Month! Got some more jewels for your crown! Let us take a moment to thank our black and brown communities for continuing to exude healing in the world that still expects us to turn down. FOR WHAT? When it's up, then it's stuck! Periodt. Ok? Ok!
What does the word "RADICAL" mean to you?
My Latest Video Releases on YouTube: 
A SPECIAL THANK YOU GOES TO A LONG TIME SUPPORTER WHO MADE A $50 DONATION! THEY WILL BE RECEIVING A CUSTOMIZED GIFT BASED ON A NEW IDEA I AM WORKING ON…
HINT: ROSE 🌹 AND GOLD ⚱️
SUPPORT BLACK BUSINESSES! ✊🏾
Saafyr Status Update:
For the last 3 years, I have been pioneering a workshop called Radical Self-Love Letters. This idea began as an activity in an event I co-hosted for singles looking to give themselves love around Valentine's Day. It was such a powerful experience to help the community who showed up ground in their bodies, ease their mind, and open their hearts to what they really wanted to say about love. I had the attendees stuff and seal the envelopes and hand them to me so that I could mail it to them when they least expected it. This a way to help receive their own love instead of looking for it externally. It was well received! Little did I know, over time, this concept would turn around to become a source of powerful healing medicine during this heavy time of solitude.
Since then, I have hosted 5 online workshops on RSLL with organizations such as Dunamis Boston, Creatives of Color Boston, Survivor Theatre Project (Juneteenth: Letter to Our Ancestors), and D.O.V.E. (Deaf Overcoming Violence Through Empowerment). It has been so rewarding to see people get excited to reconnect with their inner-dialogue with more acceptance. This year, my goal is to not only redesign this workshop to match the in-person experience it once had, but to have it accessible to everyone at anytime! 
FIRST, I have been looking at the gaps and flaws of the workshop. The number of attendees dropped down, the access became difficult, and my last workshop in December was canceled. It left me DEVASTATED with shame and guilt for not doing enough. When really, I had not fully embodied what it means to be radical and love myself at the same time. This showed up in my life by way of ending long-term career goals, batting sickness and diseases, and discovering my co-dependency with friends, family, and romantic partnership. I am taking space to heal. Problem solving from the inside out, and not the other way around.
I am ready for permanent changes. 
I decided to deepen my study and relationship to the phrase RADICAL ACCEPTANCE. It is putting me on a real good groove of self-care, and I am discovering new ways to approach love from different angles. Embracing serenity has been key. Healing is not linear. My process is like a spiderweb. It is said in Ifa, that there is power in the web-weaving of our joys and pain.
Surrendering attachments is rapidly bringing in abundance of new wisdom. Before I can launch RSLL again, I will continue my daily practice through isolation, shadow work, grief ritual, communing with ancestors, reading Radical Dharma, and of course, WRITING in all my notebooks about how I truly desire to embody my art, my craft, my message.
Radical Acceptance is the path towards least resistance. Sharing my story helps me heal my wounds. The concept of being creative with Radical Acceptance is directly connected to social and psychological healing. I am working to be a better me so I can help you be a better you too.  I am beyond grateful to have you all part of my life in this present moment. How can you help? 
JOIN THE GEMS & JEWELS STREAM OF CONSCIOUSNESS!
During this winter season, I am taking intentional time away from most social media sites to follow my spiritual guides. I am taking my passions to the next level. Please consider helping by engaging in my content by watching my videos, liking them and subscribing to my channel and share with others. It also helps if you would like to make any monetary donation to help me launch my new career path. Good vibes attracts great tribes!
Your generosity helps me to show up in the world as an authentic Black Femme Lesbian creating spaces with art and wellness for other people like me. Thank you for your investment in these humble beginnings.
BE L O V E. 🌹 Be R A D I C A L. 💎  Be Y O U. 💜
Sincerely, 
Saafyr
Check out this amazing Judge I recently discovered on my LinkedIn. 
Shannon Frison - Judge at Massachusetts Superior Court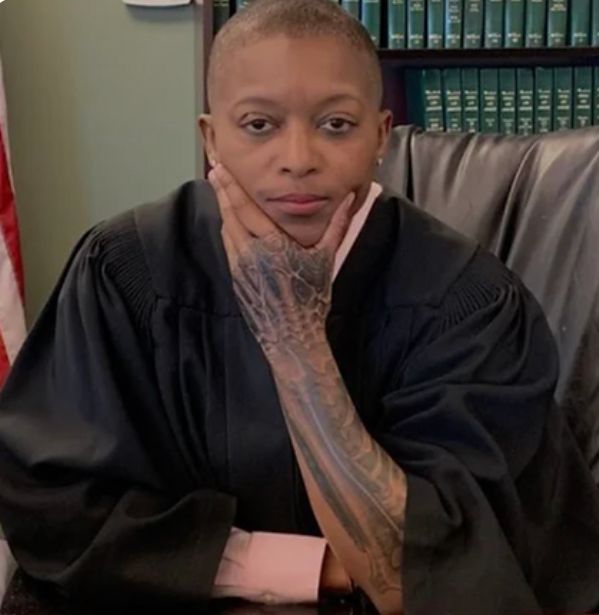 Upcoming Community Event!